My philosophy of teaching is "to learn is to do". I am a believer of sensory learning and I believe that all senses need to be engaged to make learning possible for everyone.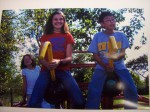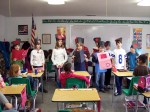 Educational Objectives
Bible: A survey of the Old Testament. Beginning with Genesis students will gain a clearer perspective of how the stories of the Old Testament fit together into one pattern.
Math: To not be afraid of math and to be competent in mental math.
Spelling: Weekly spelling tests to develop spelling and vocabulary skills.
Shurley English: Review and introduction of new skills to develop students grammar.
Reading: Continuing to develop fluency and comprehension through a variety of literature. Students should be reading outside of school at least 25 minutes each day.
Science: To love science. To be an observer of their world. Experience hands on labs.
History: To love history and know that if you learn about it you won't be destined to repeat it. Illinois History is this year's focus.
Writing: To be able to write in an interesting and organized way. Ability to understand the parts of a paper and how to outline.
Activities
      Our 5th graders do LOTS of field trips. A few of the trips they go on are to the Pumpkin Works, George Rogers Clark, Walking field trips, Swope Art Gallery, Terre Haute Theatre, Hutsonville Encampment, Springfield, IL, and whatever else we can find that helps the students learn from their environment.
Daily Schedule
          8:30 – 8:45 ————————————————– Opening
          8:45 – 9:00 ————————————————– Manners (Midgett)
          9:00 – 10:10 ———————————————— Art (T) Adams
          9:00 – 9:15 ————————————————– Writing (M,W,Th,F)(Midgett)
          9:15 – 10:10 ———————————————— Math (M,W,Th,F) (Midgett)
          10:10 – 10:25 ———————————————– Recess
          10:30 – 11:00 ———————————————–History (M,T,W,F) (Midgett)
          10:30 – 11:30 ———————————————– Science Lab (Th) (Midgett)
          11:00 – 11:30 ———————————————– Science (M,T,W,F) (Midgett)
          11:30 – 11:50 ———————————————– Lunch
          11:50 – 12:20 ———————————————– Recess
          12:30 – 1:00 ————————————————- Spelling (M) (Kartawich)
                                                                                    Shurley (T) (Kartawich)
                                                                                    Reading (Th) (Kartawich)
          12:30 – 1:15 ————————————————- Spelling (W, F) (Kartawich)
          1:00 – 1:45 ————————————————— Reading (M) (Kartawich)
          1:00 – 1:30 ————————————————— Reading (T) (Kartawich)
          1:30 – 2:00 ————————————————— Computer (T) (Adams)
          1:15 – 2:00 ————————————————— Reading (W) (Kartawich)
          1:00 – 2:00 ————————————————— Computer (Th) (Adams)
          1:15 – 2:00 ————————————————— Bible (F) (Kartawich)
          1:45 – 2:30 ————————————————— Shurley (M) (Kartawich)
          2:00 – 3:00 ————————————————— Chapel (T)
          2:00 – 2:30 ————————————————— Music (W) (Piersall)
          2:30 – 2:50 ————————————————— Shurley (W) (Kartawich)
          2:00 – 2:30 ————————————————— Shurley (Th) (Kartawich)
          2:30 – 2:50 ————————————————— Bible (Th) (Kartawich)
          2:00 – 2:15 ————————————————— Break (F)
          2:15 – 2:45 ————————————————— P.E. (F)
          2:45 ———————————————————— Switch Classes
          2:50 – 3:00 ————————————————— Final Instructions
          3:00 – 3:10 ————————————————— Clean up & Dismissal
About the Teacher